April 16, 2019
Hello ECE WordPress users!
I'm posting this as a reminder for people who have editing or admin access to any website hosted on an ECE WordPress server. This includes the main ECE website; the Advising Blog; and a number of lab, research group, and class websites.
When you need to work on your site, remember that admin access to all ECE WordPress servers is only allowed from the UW wired network. This does NOT affect who can visit your website – there are no restrictions on that. But if you want to log in, edit, or create a page, the WordPress server will check where you're connecting from.
This doesn't mean you can't edit pages from off-campus or from UW's wifi network! But, to do so, you'll need to first connect to the Husky OnNet VPN. Please see the following page for info:
https://peden.ece.uw.edu/computing/ece-only/ece-remote-access/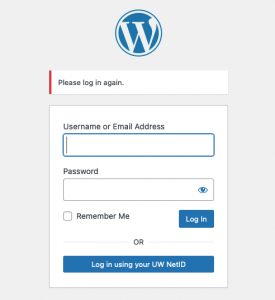 You log in by entering your UW credentials into UW's standard Shibboleth login form. If you see a WordPress window instead – like the one pictured to the right – don't type your UW credentials into that username or password box. Instead, click on the blue button at the bottom labelled "Log in using your UW NetID" – that will take you to a standard UW login window.
If your website's theme doesn't provide an obvious "log in" link available, you can just use the following link for logging in to any site on this server:
https://ada.ece.uw.edu/wp-admin/
If you have any questions – or run into any problems – please email webmaster@ece.uw.edu.
Thank you!
Travis